Last night's dinner consisted of not one, but three new particularly yummy recipes. This puts me in a tough spot; which recipe to share? But my friend Ingrid has made it easier for me, as today she's launching
Raw Epicurean
's 1st Recipe Contest and the theme is leafy greens. Well, that settles it! I must at least mention, however, the lovely
Creamy Sweet Pea Soup
I whipped up, inspired by one Kelly posted on
her blog
. Super simple and totally delish!
Perhaps you remember the
Spinach Velvet Cream Quiches
I created a while back? I so enjoy the filling that I've served it countless times as a simple spread. I took things a step further yesterday by turning it into personal size pizzas. (Come to think of it, I have a bit of a
theme going on
about revamping quiche recipes! lol) They don't really require dehydration so were ready in no time, provided you have some ready made crusts lying around the freezer.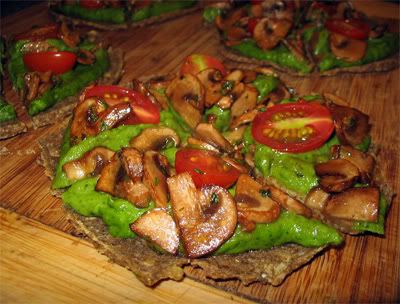 Spinach Velvet Cream Pizzas
Onion Bread Crust
Based on a recipe posted by Jaya Naga on Raw Food Talk
1-2 sweet onions
1-2 cups of sprouted
buckwheat
2 cups ground flax
1 cup ground
sunflower seeds
1/4 cup olive oil
1/4 cup Nama Shoyu
1/2 cup water. I process
Place onions in food processor with 's' blade and process until small pieces (but not mush).
Form into pizza crusts and dehydrate.
Spinach Velvet Cream Filling
1 avocado
2 cups spinach
1/4 cup fresh cilantro
1/4 cup fresh dill (or 1 tsp dried)
1 tbs olive oil
1/2 cup zucchini, roughly chopped
1 garlic cloves
2 tsp nutritional yeast
1/2 tsp onion powder
1/2 tsp sea salt or more if needed
Pinch of cayenne
Lemon juice, to taste
Blend all of the ingredients in food processor until smooth and consistent. Add water if too thick.
Toppings:
5 or 6 mushrooms, sliced, marinated in a little oil and tamari and dehydrated for 1 hour (opt)
Cherry tomatoes, sliced
Assembly:
Spread a generous layer of filling on Onion Bread Crusts.
Top the pizzas with marinated mushrooms and cherry tomatoes.
Enjoy immediately!
Mmmmmmm...

Didn't Mosaica do a fab job assembling the pizzas?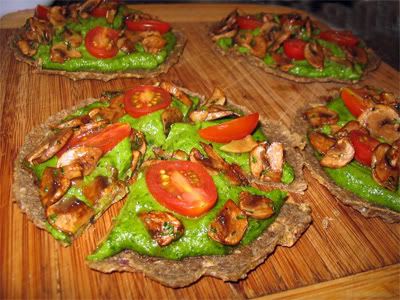 And I just couldn't finish this post without a few words about the dessert; it was insanely good! At last, I made Tiramisu from
Cafe Gratitude's new book
! It was also featured in their previous
I Am Grateful
.) The recipe needs a bit of tweaking (it pretty much collapsed as it thawed! Oops!), but I promise to share the result of my experiments as soon as I get a chance to play with it some more.
Looks mighty good though!
Now off to the airport to pick
Heathy
up for another
Raw Diva adventure
! Woo hoo!