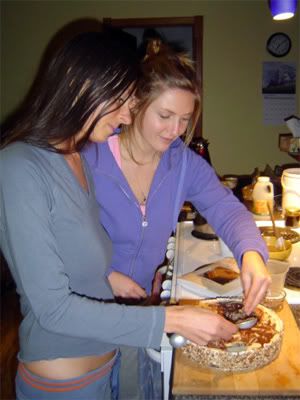 Sorry for skipping last week's recipe... I was way over my head in the kitchie with the
Raw Goddess
'in the flesh'. Plus, I figured many of you already had your hands already tied, trying some of the yummy creations from her
Just Desserts

ebook
.
After all the hard work and testing for
Just Desserts
, we were both happy to relax a little and try recipes from
the different raw books I recently purchased
.
One area we did get creative with, though, is in the beverage department. For some strange reason, my body has decided it doesn't really want fruit or green smoothies at the moment. (Go figure!) This provided the perfect excuse to experiment with almond milk and young coconut based drinks.
Heathy accidentally came upon the following combination yesterday morning. I couldn't get over how much it tasted like butterscotch! And to think of all the dessert possibilities awaiting...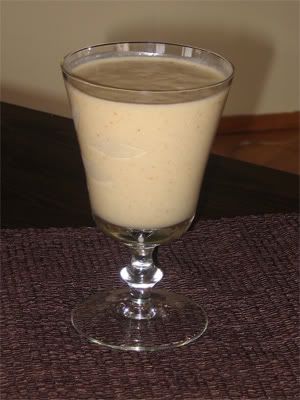 Butterscotch Shake
Serves 2 or 3
3 med. frozen bananas
2 cups
almond
milk
1/3 cup young coconut meat
2
Medjhool dates
1 tbs
lucuma
1 tsp
maca
1 tsp
vanilla powder
(or 2 tsp vanilla extract)
1/2 cup
coconut
water, regular water or almond milk
Blend in high-speed blender until smooth.
Carmella's Note:
If the shake is too thick, simply add a little water until desired consistency is reached.
It's not everyday that we get the opportunity to hang out together with online friends. Meet the three raw divas: Heathy, Mosaica and me.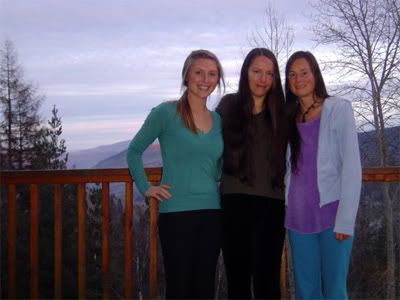 Welcome to Canadian Winter Wonderland!
This was taken just a week later. Look at all that snow!