Time to catch up and report back on what's been on the menu lately. Hum, where to start? I guess I'll begin with the fun part.
I had a major Savory D Day recently and had a real blast in the process, thanks to Don. Between the two of us, we had everything tucked away nicely in the dehydrator in no time at all. What a team!
From top to bottom: Almond Toasts, Buckwheat Pizza Crusts, Crab Cakes and Veggie Cakes.
Now, let's fast forward a bit to what all yummies I 'harvested' later on...
Almond Toasts (seriously yummy!!!)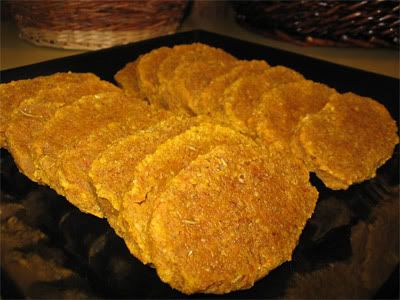 Here are the Sun Burgers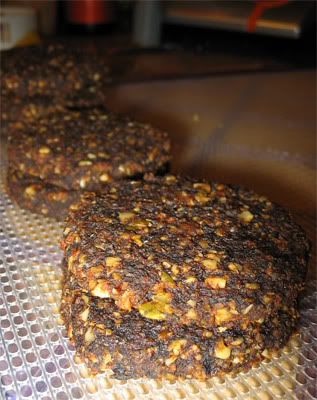 Pilgrim Soup
and
Green Celery Soup
, Cynthia Beaver's
Cucumber Avocado Dill
and my
Popeye Gone Raw Soup
. I also made
Rawvolution
's Scarborough Fair Soup, remembering that Ocean had listed it as one of her
Top 10 recipes for 2007
. Wow, no wonder! It's a delicious blend of coconut water, bell pepper, cucumber, carrot, celery, onion, sage, garlic, lemon, olive oil and sea salt.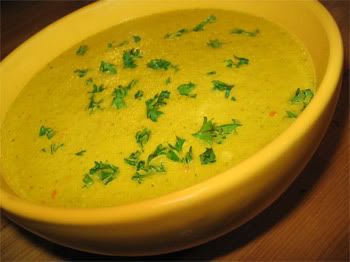 In fact it was so good, I just had to make it again a couple of days later. As you can see, a recipe never comes out exactly the 'same'.
On the salad front, I whipped up a big batch of my
House Dressing
and Snowdrop's delicious
Ranch Dressing,
so we were set for a while. When we finally ran out, I assembled the lovely
Sauerkraut Salad
- something I often do, as it's a make-as-you-go dressing.
I also dared to venture in new territories... On
Tofu666
's recommendation, I sprouted
quinoa in order to make
rejuvelac. (Yah, I know, who would have thought you could use that instead of the usual wheat or rye, eh?) While I was at it, I decided this was the perfect opportunity to try making a dish with sprouted quinoa - something I'd been staying away from, as I'd heard that it had a strange taste. Anyhoo, in the end, I opted for the quinoa salad that VeganForLife posted
here
.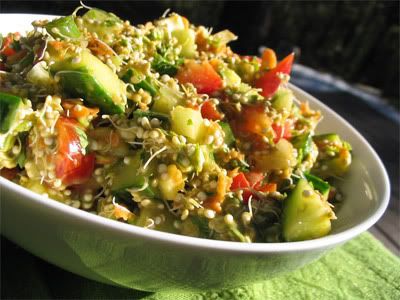 I made half the recipe and that was plenty enough for two and then some. Although the taste of the quinoa wasn't so bad after all, I doubt I'll start sprouting it on a regular basis. It gave me a bit of a tummy ache and I noticed how it didn't get broken down by my body. (Don't ask me how I know! ;-) )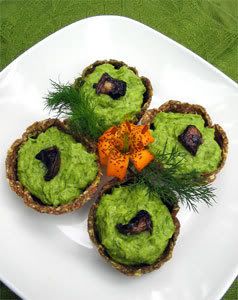 Since we had a bounty of freshly dehydrated goodies, we got to take our pick. I've already mentioned the
Crab Cakes
(if you still haven't made those yet, I'd run to the D if I were you!) which I served with the ranch dressing (not exactly tartar sauce but close enough!) I also made the Velvet filling for my
Spinach Mini Quiches
which we enjoyed on
Veggie Herb Pizza Crusts
, topped with some lovely button mushrooms lightly marinated in olive oil, tamari and garlic.
On a lighter note, I made a sunflower garlic spread - a new favorite - which we had on crackers and in nori rolls. I know it doesn't look like much but boy, is it ever yummy! I'm totally hooked on that stuff!
Sunflower Garlic Spread
2 cups sunflower seeds, soaked overnight
2 garlic cloves
2 tbs lemon juice (or to taste)
Salt, tamari or Nama Shoyu, to taste
Handful dill (optional)
Place all ingredients in food processor and process until smooth.
Finally, we tried the Veggie Cakes; a mixture of sunflower seeds, celery, onion, beets,
dulse flakes
, garlic, lemon juice, olive oil, and Nama Shoyu. Although these were good, I thought they weren't anything special. I did like the idea of a mostly vegetable based burger though. I'll have to experiment with the theme some more when I get the chance.
Veggie Cakes served with Creamy Dill Sauce


As for desserts, we munched on the yummy cookies
I recently unbaked
(man, those
macaroons
are yummo!) and the rest of
Shannonmarie
's
Chocolate Eclair
. While I was chatting with
Heathy
one day, she told me about a new citrus creation of hers that turned out particularly great. (What else is new?) It got me in the mood to make
Cafe Gratitude
's Key Lime Pie again. It's so easy to whip up, doesn't take long to set and is soooooo good, especially served with a few slices of banana. Heavenly!
Chocolate Mousse Cakes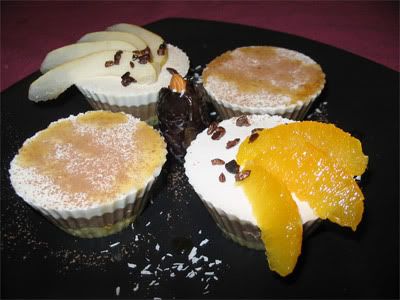 A light and creamy chocolate mousse topped with whipped cream on a macadamia orange crust. Mmmmmm... The recipe still needs a wee bit of tweaking (actually, it's just an excuse to make it again! lol) so I won't post it just yet. Soon, though, I promise.
OK, guess I'll stop here for now... the Vitamix is calling me!