Avocados are an integral part of our diet, providing some creaminess to both our daily smoothies and soups. We like to keep lots of avocados at various stages of ripeness on hand to ensure a constant supply. Once in a while, though, we end up with way too many of them begging to be used up all at once. I know that there's always the 'Guac Solution', but last week I felt like creating something a little more exciting.
After toying around with the idea of an avo based chocolate mousse, I came up with the following cute little cakes. I think I'm falling in love with raw cacao all over again... ;-)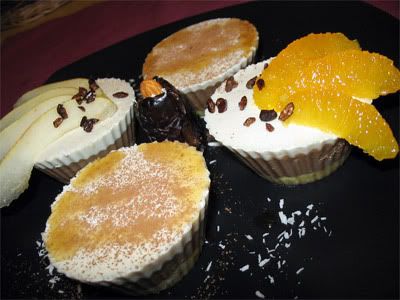 Chocolate Mousse Cakes

Crust:
1 cup shredded dry
coconut
1 cup
macadamia nuts
1/8-1/4 cup packed pitted
dates
, roughly chopped
1/4 teaspoon salt
1 tablespoon orange zest
Chocolate Mousse
2 medium ripe avocados
1/2 cup
almond
milk
1/4 cup + 2 tbs water
1/4 cup
cacao powder
1 tablespoon
carob powder
1/2 cup raw honey or
agave nectar
2 tablespoons maple syrup
1/2 whole vanilla bean
Pinch of salt
2 tablespoons
lecithin
powder*
1/2 cup
coconut oil
, melted
Whipped Cream
1 cup
cashews
1 cup + 2 tablespoons fresh coconut milk (simply blend 1 part dried
coconut
with 3 parts water in high speed blender)
3 tablespoons raw honey or
agave nectar
1 tablespoon lemon juice
1 tablespoon
vanilla
extract
Pinch of salt
1/2 cup
coconut butter
, melted
1 tablespoon
lecithin
powder*
*Lecithin acts as an emulsifier. Look for lecithin (preferably non-GMO), in granules or powdered form, at your local HFS. If using granules, make sure to grind them up in a high speed blender of coffee grinder.
If you don't have access to lecithin, you can replace it with 1 tbs + 1 tsp psyllium flakes (less if you're using powder). Please note that the consistency won't be as fluffy and hold its shape as well at room temperature.
To make the Crust:
Place dry coconut in
food processor
and blend into a fine powder. Add nuts and salt and blend until a texture of coarse meal. Add dates and orange zest and process some more until mixture is crumbly and holds together when pressed tightly.
To make the Chocolate Mousse:
Blend all ingredients except the last two in high speed blender until smooth. Add lecithin and coconut oil and blend some more.
To make the Whipped Cream:
Blend all ingredients except lecithin until smooth. Add lecithin and blend until thoroughly mixed. Pour into a container and set aside in fridge or at room temperature until ready to assemble.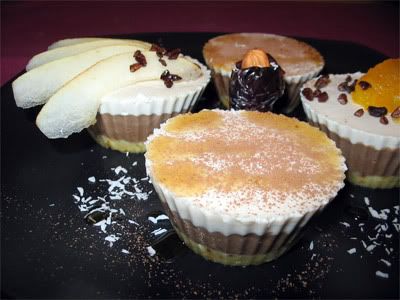 Assembly:
Press crust mixture at the bottom of silicon muffin cups. If using non-stick metal ones, line these first with plastic film for easy removal.
Pour Chocolate Mousse filling, leaving some room for the Whipped Cream.
Finish off with a layer of Whipped Cream.
Set in fridge or freezer for a few hours.
If desired, serve with orange fillets.
Carmella's Notes:
~ You'll end up with extra whipped cream (what a shame!), but as I always like to say, no doubt you'll find plenty of other uses for it. ;-)
~ If you prefer one large cake instead of smaller ones, simply assemble in a 7" spring form pan.
~ For a decadent chocolate pudding, make the mousse filling omitting the lecithin. Pour into bowls and chill before serving.
Enjoy!