With the rush of the Holidays and all, it feels like I haven't done some earnest uncooking in ages! (We've been living mostly off left-overs for weeks...) Alas, the supply of sweet treats had shrunk to, well, crumbs, so it was time for me to go on a recipe hunt.
Having used the last of the coconut oil for my
Blueberry Cheesecake
, I was also looking for oil-free recipes which was ruling out most of the fancy options. Thankfully, I didn't have to search for long as I remembered that
Shannonmarie of Rawdorable
had some beyond yummy-looking treats that perfectly fit the bill.
She must have had a serious case of ear tingling, as I spent a good part of Friday trying her scrumptious recipes. Actually, scratch that... I had a bit of whipped cream in the freezer, begging to be used up, so I also made her
Million Dollar Chocolate Brownies
the evening before that. As it turned out, I didn't have quite enough to do the deed, so I opted for the single decker variety. Oh, and I replaced the coconut oil called for in her recipe with cold pressed olive oil.
Man oh man! Are these ever good!


Don't they just make you want to reach out and grab one?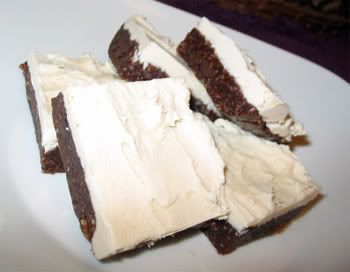 I couldn't wait to try more of her creations so I gleefully went to 'work' the next morning. (I'm not kidding... Even Don commented on my perkiness! lol)
I decided to start with her intriguing
Russian Raw Cakes
- a completely new territory for me. I was given some lucuma powder over the Holidays (thanks Jozzie!) and was thrilled to finally get a chance to use it in a recipe.
Gawd, I LOVE lucuma! In fact, I'm not the only one... DaPuss was hovering over the lucuma covered cakes to the point that I finally gave in and sprinkled a little of the stuff on the table. She licked it clean! Now you gotta understand she's quite the picky pussy, so it was highly unusual to say the least.
Here they are... Want a lick too?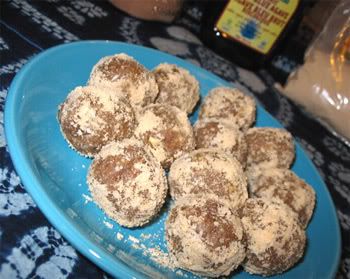 Although the flavor was quite nice (by the way, SM, I did add some agave to the mixture), I think they lacked a little something. Having never tasted Russian cakes before, I couldn't quite put my finger on it though. As Shannon pointed out, this was her "first unplanned attempt", but I have no doubt that she will tweak the recipe to perfection.
Believe it or not, I've had 2 recipes for Snickerdoodles come to me within the same week. I'd never heard of these before, and gotta say that I get a kick every time I say that word. (To herself: Snickerdoodles, Snickerdoodles, Snickerdoodles... ;-) ) By visiting
the link
Shannon posted, I found out that the name is believed to be a corruption of the German word 'Schneckennudeln', or cinnamon-dusted sweet rolls.
Anyhoo, I couldn't resist giving these a try. I ended up modifying the recipe a little, as I was curious to play with the combination of apricots and cinnamon. Mmmmmmm... These turned out to be my personal favorites.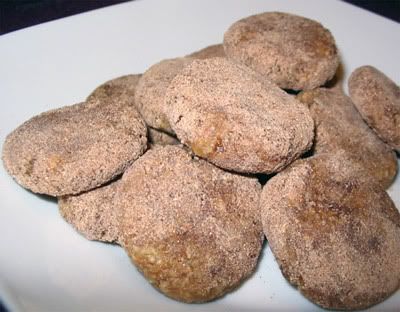 Apricot Snickerdoodles
Adapted from Shannonmarie's recipe posted
here
1/2 cup
almonds
1/2 cup
cashews
1/2 cup dried apricots (soaked briefly to soften up)
1/2 cup
dates
(soaked briefly to soften up)
1-2 Tbsp.
agave nectar
1/2 tsp.
vanilla
Dash of sea salt
Sprinkling of cinnamon
Lucuma powder
and more cinnamon for rolling
Grind almonds and cashews finely in a food processor. Add apricots, dates, agave, vanilla, sea salt and cinnamon. Process until a smooth dough forms.
Shape dough into balls, roll them in a mixture of lucuma powder and cinnamon, and flatten them into round cookie shapes.
Dehydrate
just long enough to absorb some of the powder on the outside. Eat fresh from the dehydrator or chill them in the refrigerator.
Next, I decided to finally tackle Ani Phyo's
Dreaming of Donut Holes
after reading about a variation published in
VegNews magazine
on yet another of
Shannonmarie's posts
. The recipe has been on my 'to make' list for months! You know how it goes...
I wasn't sure which version to go with. I briefly contemplated trying both, but was starting to run out of steam, so I settled for the original recipe from her
Raw Food Kitchen
book. Ani actually shared it a while back on uTube
here
. These were a real hit! A keeper for sure. I will definitely be trying the other variations as well.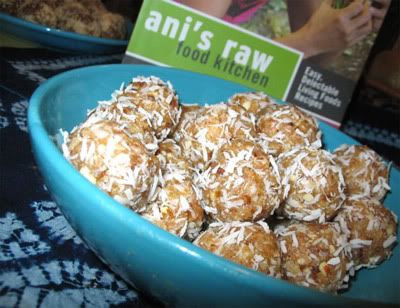 Here you go in case you don't have a high speed internet connection...
Dreaming of Donut Holes
From Ani Phyo's
Raw Food Kitchen
1 3/4 cups raw
almonds
1/2 tsp sea salt
Seeds from 1 vanilla bean
2 cups dried pineapple, chopped
2 cups
dates
, pitted
1/3 cup plus 1/4 cup shredded
coconut
In a food
processor,
place almonds, salt and vanilla. Process into a fine powder. Slowly add chopped pineapples and dates. and mix well. Place in a large bowl. Mix in 1/3 cup coconut.
Using an ice cream scooper, form dough into donut-hole-size rounds. Roll in 1/4 cup shredded coconut.
I like to save energy whenever I can, so I usually whip up one batch of dough after the other in the food processor without washing it in between - a little trick I learned while making breads and crackers. (I mean, why go for the extra work, right?) In that light, my last project for the day was Shannonmarie's
Chocolate with White Chocolate Chunks Cookies
.
I found the batter a bit wet, probably because I forgot to give a squeeze to the soaked prunes and dates before dumping them in. To resolve the issue, I added an extra 1/4 cup of almonds that I ground finely in the Vitamix, and an extra squirt of agave to adjust the sweetness.
Here they are sans the chunks, as I'm nearly out of cacao butter. (eek) Instead, I topped the cookies with cacao nibs and chopped walnuts.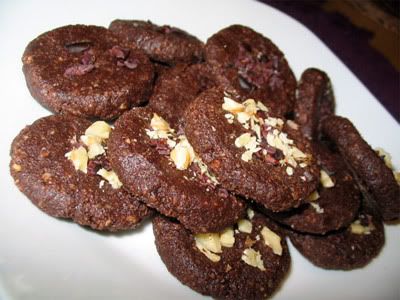 Since I wasn't using cacao butter, I decided I should pop 'em in the D for a couple of hours to firm up.
Shannon wasn't kidding; the prunes, cinnamon and cayenne really give these cookies a deep and enhanced chocolate flavor. Delish!
Oh, and here are the batters before shaping them into their respective forms. A bit of a sticky affair but a lot of fun too.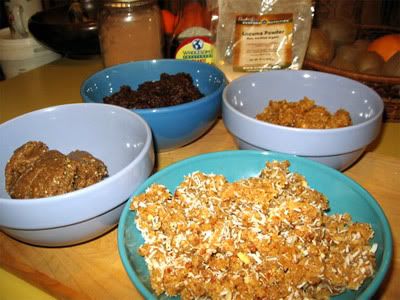 Just as I was getting ready to work on my last batch of dough, we received the unexpected visit of Rysiek, a fellow raw food lover who is the creative and leading energy behind the local retreat centre/intentional community called Ashinah. Don and I nearly lived in one of Ashinah's beautiful strawbale infrastructures when we first came to the area years ago, and haven't really had the opportunity to reconnect with Rysiek since.
On the spur of the moment, we invited him and his partner, Naomi, to join us for supper. An offer they graciously accepted. I had left-over
Chop Suey
and
Spinach & Cream Pasta Casserole
, so with Don's help, managed to whip up a feast in no time. They loved the food, sharing they felt like they'd walked into some gourmet restaurant. lol
We had a really awesome dinner and the evening zoomed right by. It was neat to be able to exchange with other long term raw foodists. In fact, Rysiek and Naomi have been conducting raw retreats at Ashinah for the last few years. We talked about the possibility of hosting a BC Raw Summit there next summer. Never know what Life has in store, eh?
One thing's for sure, we weren't short of dessert!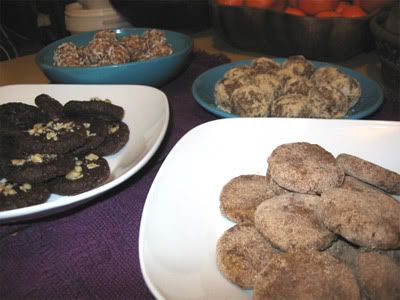 All that was missing to this gathering of beautiful food and people was the lovely Shannonmarie. I'll make sure to drop her a line and invite her along next time I whip up such a treat-full feast.