OK, I'm back! Now where was I?
Let's Crank Up the D!
Day 3 of our Raw Diva Extravaganza was a much awaited 'D day'. We were ready to rawk, babe! We went pretty much non-stop from morning to late afternoon, filling the dehydrator right up with savory goodies. Man oh man... The smell coming out of there!
First, we worked on creating a buckwheat and veggie dough that we would use both as pizza crust and for our next project: mini-pockets. We were really excited about experimenting with these - something I'd been meaning to do for months, ever since trying
Alissa's calzone
. The possibilities of fillings are endless, but we decided to make 3 different kinds of pockets: Italian, Greek and Asian (recipes now available in
The Best of Raw Freedom Community
ebook).
Here they are, freshly out of the D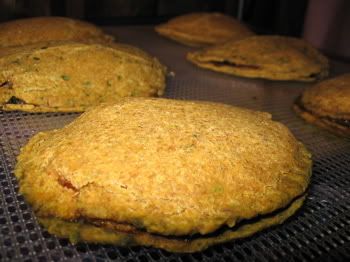 While Heathy worked on that night's dessert, I prepared Snowdrop's Sesame Nuggets (featured in my Recipe of the Week post
here
.)
We also came up with a burger recipe of our own that we formed into both patties and balls - the latter were meant for yet another new creation.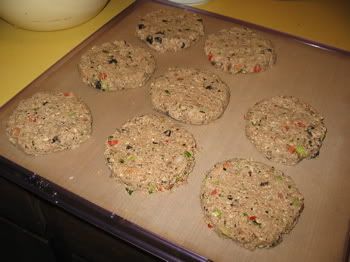 Lastly, Heathy had brought some dried porcinis with her so we got to try the
Crab Cakes
featured in the latest
Purely Delicious
that everyone had been raving about on
Raw Freedom Community
. Somehow, we misread the instructions and dehydrated the cakes at too low a temp, so they weren't fully ready in time for dinner. Ah well... They were superb nonetheless.
We served the crab cakes along with a tartar sauce, and a mixed green salad. Delish!

To my surprise, I found out that Heathy has never been 'the soup type'. At least, she certainly landed among the right folks to give her a taste of how delicious raw soups can be. It looks like it worked; my and Don's passion for raw soups rubbed off on her a little. In fact, we started that evening's meal with a lovely creamy Mushroom Soup that Heathy and I created. We were both super stoked at the result.


Dessert was Fairygirl's wonderful Strawberry Lime Mousse Cake, which we were testing for her book. In fact, she told me that, of all the desserts she's come up with, this one is her favorite, which is saying a lot! The pie that she submitted at the
Simply Raw Pie Contest
in Ottawa last fall was based on this recipe. Lovely, as you can see.
One more day zoomed right by!
Snowed In?
I forgot to mention that we woke up to our first snow of the season that morning. Yay, the return to lovely Winter Wonderland! Once everything got safely tucked away in the dehydrator, we couldn't resist taking a short break to go for a walk amidst the freshly fallen snow. Beautiful!
As you may recall, we live up a mountain. In fact, the road is so steep that you need a 4X4 to drive up the hill in winter. We couldn't help wondering how the snow would affect the upcoming potluck on Sunday, and Heathy's return the next week.
In the meantime, that also meant that it might affect our trip to Nelson the following day, as John's car wouldn't make it back up the hill under snowy conditions. However, we had a 'Plan B' up our sleeves, and were prepared to walk and get the bus in, as we had to pick up a few more grocery items for the rest of our uncooking marathon.
Three Raw Divas...
Once again, the weather cooperated; it rained throughout the night, and by the time we got up on Friday, the snow was virtually gone. Perfect! Heathy guided us through a few yoga postures, then we headed towards town for the afternoon. As soon as John dropped us off, we went straight to
Rawfreshing Cuisine
. Heathy had been wanting to eat at Chantale's raw deli ever since
I wrote about it
last summer.
I knew Chantale was planning a trip to Quebec sometime in November and wasn't sure whether she'd be around. Thankfully, as it turned out, she wasn't going until the following week, so we got a chance to chat with her to our hearts' content.
Heathy with yet another Canadian Raw Diva


Everything Chantale makes looks so yummy, but in the end, we settled for the following...
Pizza Wrap
A soft veggie wrap filled with pine nut ''ricotta'', pizza sauce, pesto, veggies, lettuce and sprouts.
Mediterranean burgers
Sunflower and pumpkin seed burgers on sesame-onion ''toasts'' with veggies and Rawfreshing sauce - a sort of blend between ketchup, mayo and mustard.
Here we are, getting ready to enjoy a mega raw treat!


But that was only for starters... Next came desserts!
Chocolate Mousse Torte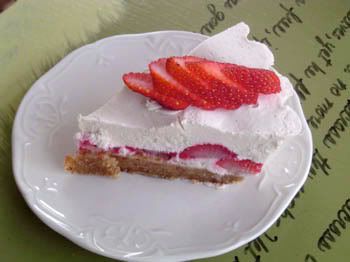 Chantale thought she was out of her personal favorite, Cashew Cheesecake, but then remembered she had a few pieces left over from a catering order. Lucky us!!!


Cashew Cheesecake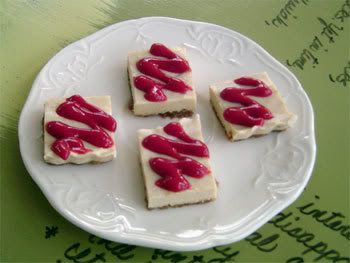 On a pecan-raisin crust with a raspberry coulis.
We could see why Chantale likes this cheesecake so much: it's so creamy it literally melts in your mouth. She sure had us puzzled over its delicate taste; you should have seen us trying to figure out what was the secret ingredient! lol
We had a fabulous time, spending close to 2 hours in Chantale's raw haven. As we were munching away on her delicacies, Heathy and I toyed with a tempting idea: wouldn't it be awesome if we were to be raw food critics, touring raw restaurants all over North America? Ahhhhhhhh! Bliss, I tell ya! Not sure if our bodies could take it though. lol
Wondering how we managed to eat all that food? Me too! We were sooooo full when we walked out of there! In fact, we ended up having just a light dinner: Don's wonderful
Green Celery Soup
(which I just can't get enough of), and a modified version of Kate Wood's
Sauerkraut Salad
. Huh, and a teeny dessert later on. Does that count?
Coming up next... Our 'Sweets' Day and Raw Potluck