Food lovers will agree that long before you put something in your mouth, you get to 'taste' it with your eyes first. If you don't like what you see, there is a pretty good chance you won't be overly impressed by the flavor either.
Well, the raw enthusiasts who attended Ottawa's
Simply Raw Festival
last weekend sure had an eyeful, as they got to admire and yes, even sample, the 30 entries to the second annual
Raw Pie Contest
.
If you're still not sure about food prep being an art, this should definitely do the trick! Don't think I've ever seen such an array of scrumptious creations gathered in one place before!

Here you go... But let me give you a piece (yet another! lol) of advice: careful not to short-circuit that keyboard of yours!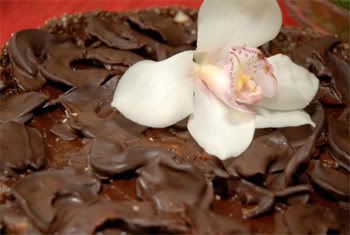 Even my gifted and beautiful friend, Fairygirl/Heathy, put her talent to the test with her Strawberry Mm-Rawgarita Pie!
Mmmmmmmm indeed!


Although she wasn't planning on participating at first (the contest was booked up!), Heathy was given a last minute opportunity to whip up something of her own. Here's what she came up with:
Strawberry Mm-Rawgarita Pie
Date/nut crust
Green lime cream
Layer of strawberries
Thick strawberry lime topping
Pipped into ridges for the swirls is a strawberry sauce
Shredded coconut as the "salt" around the rim
Lime slices
"Next year, the festival will be 2 days," says Fairygirl/Heathy, "and I can't wait! I have a year to come up with a winning pie!!!"
Oh-oh, better watch out! I have no doubt that the one I've nicknamed 'The Ultimate Dessert Queen' (
read this post
and you'll see what I mean!) will be back with a yummilicious revenge of unprecedented proportions!
If you'd like to visit the webpages for other Simply Raw Festivals, including top pie entries and recipes, you can do so here: