Well, 'tis the season once again!
Regardless of what all the Christmas carols suggest, the Holidays are more often than not very stressful for our body, mind, and not to mention our wallet. Office parties, not-so-healthy foods and alcohol in astronomical amounts, late nights, running around for last minute presents, visiting relatives, hosting dinner parties... Phfew! And this is supposed to be a happy and jolly time of year? Exhausting sounds more like it!
Oh, and have you ever wondered how an overweight man in a costume can possibly make it down the chimney? (Shhhhh... Don't tell the kids!)
Whether you're planning on celebrating the Holidays with family and friends, or quietly on your own, here are some recipe ideas that will hopefully help make this season a little gentler on yourself. I'm sure Old man Santa will also be thankful for it!
Nog On The Rawk
I have to admit that eggnog is one of those things that I really can't remember when I had it last. Actually, I even thought it was served at Easter rather than Christmas. lol Hum... Not the biggest eggnog fan in the world, as you can see. But for those of you who have fond memories of this special drink, here are a couple of options you might want to try.
Raw Nog
Posted on
Raw Glow
1 batch raw
almond
milk (See recipe below)
5 large soft pitted
dates
2 very ripe bananas
1 vanilla bean
1/8 teaspoon nutmeg
1/8 teaspoon cinnamon
1/4 cup raw
macadamia nuts
(optional)
Make the almond milk first using a sprout bag. For instructions on how to make almond milk click here. In a blender add all the other ingredients including the vanilla bean seeds. To learn how to scrape a vanilla bean click here. Adjust sweetness to taste by adding more or less dates. The macadamia nuts are optional but they will give the drink a thicker consistency. Enjoy!
Vanilla Almond Milk
1 cup soaked
almond
s (Soak in a bowl in the refrigerator overnight and rinse before using)
3 cups water
1 vanilla bean, seeds scooped out
out 3-5 soft pitted
dates
(or soak hard dates in water for 1/2 hour) or other sweetener to taste such as honey or stevia
To make almond milk blend the soaked almonds with the water until smooth. Then strain the mixture through a sprout bag, cheesecloth, or strainer into a big bowl. Save the almond pulp in a container and put in the refrigerator for later use. Put the almond milk back into the blender carafe and blend in the vanilla seeds and dates or other sweetener until smooth. This milk will last in the refrigerator for about 3-5 days. Shake well before using.
Holiday Nut Nog
By Cherie Soria
Posted by Rawbie on
Raw Freedom Community
Serves: 6
4 cups
almond
milk, strained
2/3 cup
macadamia nuts
,
8 soaked honey
dates
, pitted
2 bananas, frozen
2 teaspoons
vanilla
extract, or 1/2 vanilla bean
2 teaspoons maple syrup, optional
2 teaspoons flax oil, optional
1/2 teaspoon nutmeg
1. If using vanilla bean, slit the bean lengthwise, scrape out the soft center and discard the outer shell.
1. Place all ingredients, except bananas, together in a blender and blend until perfectly creamy.
3. Add bananas and blend until smooth.
*Serve chilled, sprinkled with nutmeg.
I Say Tatoes, You Say Taters
There's been several attempts to recreate mashed potatoes in the raw, nearly all of which use cauliflower. I can see why this would be a tempting option, as the result is very similar in look and texture. Unfortunately, this distant relative of the cabbage family also tends to lend the dish a distinctive 'bite' which isn't very authentic at all. If you do decide to go for it anyways, I recommend you consume the cauliflower potatoes shortly after they're made, as the flavor will get stronger the longer they sit.
Un-potatoes
By
Matt Amsden
2 ½ cups cauliflower
¼ cup macadamias
¼ cup oil
1 teaspoon salt
1 clove garlic
Food process, season with fresh ground pepper to taste.
Carmella's Note:
Although I'm not a big fan of raw cauliflower, these tatoes were okay. Still, we could definitely taste the bite, and doubt that they would keep well for another day.
I also made Gabriel Cousen's
Mashed Taters
recipe, which I thought looked very promising, as it called for pine nuts and macs. No such luck, though. As it turned out, the cauliflower taste was even more discernible than in the previous recipe. (Go figure!?!) The combination of garlic and Italian herbs with the already strong cauli was, well, not very pleasing to our palates. In fact, we ended up giving them to our dog. (Sorry Gabriel!)
Hum, guess my quest for a good raw 'tatoes' recipe is far from over...
My Good Gravy!
I'd never heard this expression until Fairygirl used it a few weeks back. Sure gave me a good chuckle or two! In any case, finding a yummy raw version of gravy wasn't difficult at all. I have to say that the Raw Gravy from Heidi and Justin's
Thanksgiving ebook
(shown on the left) is fantastic and is on top of our list. You might also want to try one of the following recipes.
Gravy
By
Matt Amsden
⅓ cup coconut water
⅓ cup water
1 ½ cups chopped portabellos (I used button and crimini mushrooms)
¼ cup tahini
4 cloves garlic (You might want to use less!)
2 tablespoons lemon juice
2 tablespoons soy sauce
½ stalk celery sliced
¼ carrot sliced
¼ cup onion sliced
¼ cup red pepper sliced
½ - 1 tsp salt
Blend all ingredients
Carmella's Notes:
This gravy was lovely. I'd recommend cutting down on the garlic, though, as I put half of what he called for and that was still too much for our taste buds. I ended up adding more veggies to disguise the taste. Oh, and I used criminis and button mushies as I had no portobellos.
Aimee Perrin of
Living and Healing Raw
has several free Holiday recipes on her site. I haven't had a chance to make this next one yet, but it does sound promising.
Ravy Gravy
By Aimee Perrin
1 cup soaked cashews
½ cup water
3 tablespoons flax oil
1 tablespoon onion powder
1 teaspoon celery salt
2-3 tablespoons Nama Shoyu
1 tablespoon sage
2 tablespoons almond butter
Blend all ingredients in blender until creamy. Taste and adjust ingredients. Add Celtic salt and/or pepper if desired. Warm in dehydrator. Serve over Mashed Taters and Spare a Turkey and Dressing.
Where's The Turkey?
Now we're entering Don's department - he loooooooves stuffing! To his delight, I came up with the following Thankful Turkey. The recipe evolved out of Matt Amsden's awesome
nut meatloaf
and is the best stuffing/turkey type recipe we've eaten so far.
I served it with Matt's Un-tatoes and Gravy
Carmella's Thankful Turkey Loaf or Burgers
Makes 1 loaf or 10 burger patties
3/4 cup almonds
3/4 cup walnuts
3/4 cup sunflower seeds
1 1/4 cups mushrooms
1 1/2 cup celery
1 cup fresh parsley leaves
1 cup sweet onion
4 cloves garlic
1/8 cup tamari
1/8 cup olive oil
1/8 cup water
3/4 tsp salt, or to taste
2 tsp dried sage
2 tsp dried thyme
1 tsp rosemary
1 tsp tarragon
Grind nuts in food processor until smooth. Transfer to bowl.
Pulse chop mushrooms, celery, parsley, onion and garlic in food processor.
Mix chopped veggies along with the nuts and the rest of the ingredients.
Form into a loaf about 1" thick or into patties and place on teflex sheet.
Dehydrate at 120 degrees for a couple of hours, then flip onto mesh and continue dehydrating at 110 for approx. another 9 hours.
Serve with gravy or cranberry sauce.
But in case my Thankful Turkey doesn't strike your fancy, the next recipes might do the trick.
Here's what we enjoyed for Thanksgiving last year...
Noasted Turkey
By
Alissa Cohen
Posted on
From SAD to RAW
From the Sprout Café in Atlanta, this tastes just like traditional turkey stuffing to me. Although the Mock Turkey Loaf is prettier, this one is so good I thought I'd give you both…after all, Thanksgiving can be the toughest holiday to get through when you first go raw. I top this with marinara sauce to give it a bit more moisture.
2 cloves garlic, chopped fine
2 Tablespoons fresh sage
2 Tablespoons rosemary
2 Tablespoons fresh thyme
2 cups walnuts, soaked 12 hours and drained
2 cups almonds, soaked 12 hours and drained
1 Tablespoon white miso
1 large onion, chopped very fine
6 stalks celery, chopped fine
1 cup parsley sprigs (as garnish)
1 cup cranberries (as garnish)
1. Place garlic in a food processor and process well.
2. Add sage, rosemary, and thyme, processing well.
3. Add walnuts, almonds, and miso, one at a time and process well.
4. Remove to a bowl and stir in onion and celery.
5. Place on a sheet of Teflex and form into an oval loaf shape. Dehydrate at 105 degrees for 6 hours.
6. Remove and turn loaf over, removing the Teflex sheet from the bottom. Dehydrate for 4 to 6 hours more.
7. Garnish with parsley and cranberries
Frederic Patenaude
played Santa Claus last year by treating his readers with 2 free ebooks for the Holiday Season. Even though Fred himself promotes a simple Raw Vegan Diet based on the principles of natural hygiene, as outlined in his best-selling ebook
"The Raw Secrets"
, he hired a talented Calgary-based raw chef,
Diana Stoevelaar
, to come up with two beautiful and delicious menus for the Holidays.
This Celebration Loaf was featured in his Christmas Day Menu. (To download the ebooks, just go
here
.) As much as we liked Alissa's Noasted Turkey, we thought this was even better.
Celebration Loaf
By
Diana Stoevelaar
1 cups 1⁄2 raw almonds*
1 cups 1⁄2 raw hazelnuts or pecans*
1 cups 1⁄2 raw sunflower seeds**
2 cups 1⁄2 chopped portobello mushrooms
3 cups chopped celery
1 cup chopped red pepper
1 cup chopped carrots
1⁄ 2 cup chopped fresh parsley
1 tablespoon minced garlic
1 shallot, finely chopped
1⁄ 4 cup minced scallions
2 tablespoons fresh sage, minced or 2 tsp. dried (I used 4 tsp)
2 tablespoons fresh rosemary, minced or 2 tsp. dried (I used 4 tsp)
1 tablespoon fresh tarragon, minced or 1 tsp. dried
1 1⁄ 2 teaspoons fresh thyme, or 2 tsp. dried (I used 4 tsp)
1 tablespoon celtic sea salt
1⁄ 4 teaspoon paprika
2 tablespoons psyllium powder
GARNISH
1 bunch curly kale, or endive or parsley, for garnish
2 oranges, sliced in wheels, for garnish
1⁄ 2 cup fresh cranberries or 1 cup cherry tomatoes, for garnish
* = preferably soaked for 12 hours and dehydrated at 105°F for 12 hours
** = preferably soaked for 6 hours and dehydrated at 105°F for 6 hours
In a
food processor
, grind the nuts and seeds thoroughly. Alternatively, use a
Green Star® or Champion ® Juicer
(not a centrifugal juicer) to homogenize the nuts and seeds. Transfer the mixture into a large mixing bowl.
In a food processor, grind the mushrooms, celery, peppers and carrots in batches to fit your machine. Add to the nut and seed mixture. Add the remaining ingredients and mix thoroughly until well combined.
Using a teflex sheet on a mesh dehydrator* rectangular tray, shape the mixture into two loaves approximately 1" thick. Dehydrate at 105°F for 4 hours. Flip the tray over onto an empty mesh dehydrator tray, and gently peel the teflex sheet off the nut loaves. Continue dehydrating for another 4 hours.
Place the loaves on oval serving platters and garnish with curly kale, orange wheel slices and fresh cranberries.
Serve with warm Mushroom Gravy.
Carmella's Notes:
~ This recipe makes quite a lot (2 loaves or approx. 16 burgers). You can either halve it or freeze the rest.
~ I used soaked nuts (not dehydrated) and it worked fine.
~ I found that the batter needed a little more herbs, but that's all a matter of personal taste.
Celebration Loaf served with Mashed Taters and Raw Gravy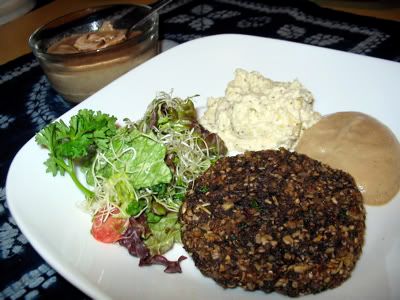 Cranberries Are Red

No Holiday table would be complete without the colorful cranberries...
Cranberry-Orange Relish
Posted by Vanessa on
GLiving Community
2 cups cranberries- frozen or fresh
2 tablespoons minced onion
1 teaspoon minced ginger
2-3 oranges, peeled and sectioned (removing membranes if possible)
2 tablespoons lime juice
agave nectar to taste (1/4- 1/2 cup)
Process cranberries in a food processor. Add the remaining ingredients and mix by hand.
And yet another recipe from Fred's
Christmas Day Menu
ebook...
Cranberry Sauce
By
Diana Stoevelaar
Ingredients:
2 cups of fresh or frozen cranberries
1 cup of raisins, soaked
2 sweet oranges, peeled and sectioned
2 sweet apples, cored and chopped
¼ tsp cinnamon
¼ tsp. ginger
¼ tsp. allspice
1/8 tsp. cloves
Directions:
Puree all the above ingredients through a Champion Juicer, food grinder or food
processor. Add spices and mix thoroughly. Chill overnight to let flavors marry. Garnish
with grated organic orange peel and serve.
This next dish may not be very traditional, but it is so pretty and flavorful that I thought it would fit right in. In fact, this was so good I could have eaten the whole thing by myself!
Walnut Cranberry Squash "Rice"
From
Ani Phyo's Raw Food Kitchen
Posted by Danny on
Raw Freedom Community
1 small butternut (aprox 1 lb) peeled, seeded and cubed 2"
1/2 small yellow onion (1/2 cup) chopped
1 T cumin seeds
1 T coriander powder
1/2c cilantro chopped
1 c dried cranberries
1 c walnuts crushed
2 t sea salt
Blend squash in FP until small and "rice" like, then put in a bowl, add all the rest and mix well, keeps for 2 days in the fridge.
Carmella's Notes:
~ I did half the recipe and did a few minor changes:
I had no cumin seeds so used powder instead
I don't react well to onions so subbed with the white part of green onions
~ Ani calls for 1 small butternut squash which is pretty vague. I had a big one so used only 1/3 of it or so (roughly 2 1/4 cups).
Cranberry Walnut Kale Slaw
By Ani Phyo
Posted on
Living Harvest's site
5 servings
SLAW
1 head of green or red kale, thinly sliced
1/2 head red cabbage, thinly sliced
1 scallion, chopped
Place kale, cabbage, and scallions into a large salad bowl. Set aside.
DRESSING
½ cup brazil nuts, soaked 8-12 hours, rinse well
1-2 cloves garlic, to taste
1 teaspoon salt
1/8 cup Living Harvest Hemp Oil
1/8 cup olive oil
juice of 1/2 lemon
1/2 cup filtered water
Place all ingredients into blender and blend until smooth. Pour over slaw and
toss well. Set aside.
TOPPINGS
1 cup pecans, soaked 8 hours, rinse well, and dry in dehydrator or air dry
1 cup dried cranberries
Place tossed kale slaw on five salad plates, top with pecans and cranberries,
and serve.
Holiday Sweet Treats
And, of course, the best part are the desserts and sweet yummies you get to enjoy guilt-free. Now that's a nice change!
I've always assumed that 'mince pies' was a sort of meat-based sweet dish. Yuck! I guess the 'mince' part (as in 'minced beef'?) was a tad misleading... at least for me. Funny how we come to make false assumptions, eh? However, thanks to Raw Chef
Russell James
, I realized I was totally mistaken.
I may have never tasted the real McCoy, but the following raw mince pies are heavenly just the same. In fact, they were sooooo good that Don and I ate them with our eyes closed.
Mince Pies with Whipped Cream
Posted by Russell James on
his blog
FOR THE PASTRY
1 c almonds
1 c walnuts
1 c pecans
1 c raw jumbo rolled oats
20 dried soft apricots
FOR THE FILLING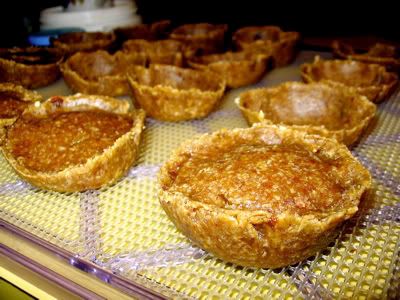 7 soft dates
juice of 1 orange
1 t orange zest
1 apple
½ t mixed spice
1 c raisins
FOR THE CREAM
1 c courgette, peeled and chopped
¼ c agave nectar
1 c cashews, soaked 2 hours
1 t psyllium husk powder
1 t vanilla extract
• Soak nuts overnight and fully dry them in a dehydrator. To make the pastry, first process the nuts and oats in a
Vita-Mix
dry jug or coffee mill so that you end up with a fine 'flour'.
• Transfer the mixture to a
food processor
with an 's' blade. Add apricots one at a time until the whole mixture becomes sticky. If you are using apricots that have been soaked, you may find that you already have a dough-like consistency. If the mixture isn't forming a ball in the processor at this point then add some water (soak water if you soaked the apricots) a few tablespoons at a time until it does.
• Roll out the mixture on a flat surface so that it is about twice the thickness of a pound coin. If mixture sticks to rolling pin, mill some more oats to dust the rolling pin and rolling surface with.
• Using a pastry cutter that will cut a base to the required size for your baking tray, cut the bases from the rolled out dough. Place these in a muffin baking tray that has been lined with Cling Film. You will need to re-form and re-roll the dough to get the most from it. Use any left over dough to build extra pies!!! Place the baking tray in a dehydrator at 115 degrees F.
• To make the filling, remove stones and flowers from dates and place in food processor. Add the orange juice, zest and mixed spice. Process and add water as needed to produce a creamy consistency. Mixture will need to occasionally be scraped from the sides of the processor using a spatula.
• Chop apple into small pieces and add to mixture. Process for a further 15 seconds.
• Add raisins to mixture and stir in with a wooden spoon/spatula.
• Remove bases after the 3 hours and fill with raisin mixture.
• To warm the pies, return them to the dehydrator on mesh sheets for as long as you can keep your hands off 'em!!! They should be ready after an hour.
• Whilst they are warming, process the courgette, agave and vanilla in a blender until smooth. Add the cashews and process again until mixture becomes smooth again. Add the psyllium and blend a final time. When fully blended leave the mixture to firm up for 5 minutes. Transfer this mixture to a piping bag and pipe onto the warmed pies. You are now ready to enjoy raw mince pies with whipped cream!!!
Mysticat shared several
awesome cookie ideas
for the Holidays on Raw Food Talk, including this couple of gems.
Mysticat's Ginger Stars
Posted by Mysticat on
RFT
2 cups ground oat groats
1 cup cashew "flour" (cashews ground in a coffee grinder)
1/4 cup agave
2 tsp. cinnamon
3 tsp. ginger
6 dates + 1 cup raisins--soaked and pureed
--roll out dough on a non-stick surface (I used wax paper)
--use cookie cutters for shapes, then dehydrate until "hard"
Mysticat's Notes:
~
The ginger cookies are also yummy if you substitute ground pecans for the cashews ( I found that out today, when I ran out of cashews!)
~
I left the cookies and nuggets in the dehydrator at about 100 degrees, for about 20 hours. They probably didn't need to be in that long, but I like to leave them in overnight and while I am at work the next day. (Maybe even 12 hours would be enough). The refrigerated ones just need a few hours to firm up.
Carmella's Note:
I put the batter in the fridge for a couple of hours. It made it much easier to handle and cut up.
Mysticat's Chocolate Chip Cookies
Posted by Mysticat on RFT
1 3/4 cups cashew "flour"
3/4 cup ground oat groats (or use all cashew flour for a much sweeter dough)
1/4 cup agave
2 tsp. vanilla
1/2 cup coconut oil
Chocolate Chips
*


* Blend 1/2 cup coconut oil, 1/2 cup carob, 1/2 cup cacao - put mixture in freezer, then chop into chunks.
--form into balls, roll in cashew "flour" and refrigerate
JustMe's Notes:
mysticat.....GENIUS---PURE GENIUS with the chocolate chip cookies!!!!! They are out of this world!!!!! the cashew flour is what really made the cookies!
a few modifications that i did---i used all cashew flour, used all cocoa and added agave to the choco chip mixture until it was "bittersweet". I think i will use less oil next time and it was a little bit oily for my liking.....BUT HOLY SMOKES WERE THESE GOOD!!!! i couldn't stop snacking on the batter and then i had to put in the freezer to let the choco harden up a bit so i can form them into balls!
Rawkinlocs' Notes:
I made the chocolate chip cookies and they are AWESOME! I didn't roll them in cashew flour and I ended up putting them in the dehydrator...they were warm, soft and chewy and the chocolate chips were so close to the SAD ones it was scary!
Aisah's Notes:
These are fantabulous!! I was intimidated by the looks of the recipe too but it was nothing after all!! Think I made that twice!!! It was awesome!! Sure to satisfy
any
CCC cravings - trust me!!!
Cranberry Coconut Biscotti
By Wind Walrath - The Raw Biscotti Company
Posted on
Living Harvest's site
2 cups almonds (best if pre-soaked overnight in water)
1/2 cup golden flax seeds ground fine
1/4 cup golden flax seed left whole
2 cups unsweetened shredded coconut
2 cups dried apple soaked in water (save soak water)
2 cups frozen cranberries
1/2 cups Living Harvest Hemp Nuts (or any hulled hemp seeds)
1/4 cup coconut oil
1/2 cup honey /agave
1/2 tsp vanilla extract
Pinch of sea salt
Process almonds in a food processor until meal-like. Process dried apple in food processor until broken up in little pieces. Process frozen cranberries in food processor by pulse blending to break up slightly into smaller pieces. In a large bowl add your almond meal, shredded coconut, golden flax meal and whole flax, Living Harvest Hemp Nuts and sea salt. Mix and then add dried apple and cranberries. In a separate bowl add coconut oil, honey and vanilla and add a 1/4 cup of apple soak water. Add wet mixture to dry and mix thoroughly. You may need to add more of the soak water to hold your mixture together. Then spread out on cookie sheets in one big square 1/2" thick. Then score with a spatula or pizza roller the rows of pieces making them about 3" long. Bake in a convection oven at the lowest temperature rate until dry and crispy or use a dehydrator to keep enzymes alive.
Lastly, Jennifer Cornbleet, author of
Raw Food Made Easy For 1 or 2 People
, shared several Holiday recipes a few years ago, including the following cake.
Apple Cake with Macadamia Cream Frosting
By Jenny Cornbleet
Recipe featured on CBS2 and posted
here
Serves 8
Apple Cake Ingredients:
* 3 c dried apples
* 1c pitted dates, chopped
* 6 apples, shredded
* 1/2 c currants
* 1/2 c shredded unsweetened coconut
* ½ c raw almonds, ground to a powder in a coffee grinder
* 2 tsp cinnamon
* 1/4 tsp nutmeg
Frosting:
* 2 c macadamia nuts
* 4 T raw honey/ agave
* 2 tsp rosewater, optional (available at health food stores and Persian markets)
* ¾ c water
Process dried apples in food processor until ground. Add dates and pulse chop until mixed. Add shredded apples and pulse chop for a few seconds. Transfer mixture to a mixing bowl, and add remaining ingredients. Firmly press into an 8 inch springform pan. Blend frosting ingredients in a blender, adding additional water if necessary. Frost the cake. Remove from springform pan, and garnish with edible flowers, and/or additional coconut.
Well, these should give you some food for thought as to what to prepare for the coming Holidays. There's also a bunch more inspiring recipe ideas in RFC's
Holiday Recipes section
:
Christmas Kale
,
Zucchini Roll-ups
,
Herbed Pecan Stuffing with Gravy Gratitude
,
Orange Goji Berry White Chocolate
,
Holiday Orange-Spice Bars
and Snowdrop's mouth watering
Blonde Fruitcake
featured in my
Recipe of the Week
.
Have fun uncooking and a rawesome and healthy Holiday Season to you all!
*~*~*~*~*

Photo Credits
Raw Nog from
RawGlow.com
Cranberries from
Columbus Polarity Center
Chocolate Chip Cookies by Being
Blonde Fruitcake by Snowdrop