It's been another mostly cracker 'n spread week. With some of the left-over
Cheddar Cheeze Spread
(Mosaica says she could eat that stuff every day! lol), last night we treated ourselves to a yummilicious pizza. I was debating whether to call it 'Cheddar & Bacon' due to the smokey flavor of the veggies, but decided against it. I sometimes cringe at the use of SAD names, particularly when it comes to meat products, and in this case, I felt it would have been stretching it a bit far. Anyhoo, you get the drift... I bet this combination would also work really great in a
soft veggie wrap
. Mmmmmmm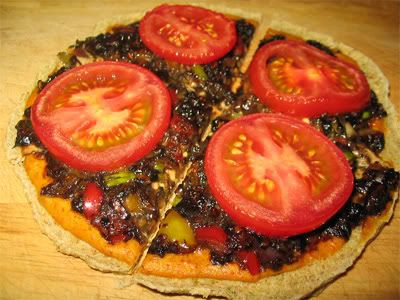 Cheddar & Smoked Veggies Pizza
Serves 4 or 5
For this recipe you'll need:
Smoked Veggies
3 1/2 cups sliced mushrooms of choice
1 cup chopped bell pepper (I used yellow, red and purple)
1/4 cup chopped green onions
2 1/2 tbs olive oil
2 1/2 tbs tamari
1 tsp liquid smoke
1 tsp garlic powder (or 1 garlic clove)
1/4 tsp onion powder
1/8 tsp black pepper
Toss all ingredients in a bowl and let marinate for a couple of hours. Drain. Pulse-chop in food processor.
Assembly
On your crust of choice, spread a generous layer of
Cheddar Cheeze Spread
.
Follow with Smoked Veggies.
Top with tomato slice(s).
Dehydrate at 110 for 1 hour.
Enjoy!