Did you know that we grow bananas in Canada?
Yep, that's right! But that's not all; Canada even has its very own desert! (Now, how about that, eh?)
Osoyoos is the capital city of the South Okanagan, aka the 'fruit basket' of Canada. It is renowned for having the only hot desert in the country. Its dry, sunny climate, irrigation and long growing season makes it ideal to grow cherries, plums, apricots, peaches, apples, grapes... and yes, bananas too!
Sounds like a raw foodie's dream? Probably... but that's not why Don and I drove out there yesterday. We were taking our good friend, John, to meet up with his wife. From there, they headed to Vancouver where he is to get an angeogram and then, possibly heart surgery. He's been trying alternative therapies for the last year or so, with little result (at least, in a physical, calculable kind of way), and now the White Coats are saying his time is running out...
The Raw Kitchen Hits The Road
It was our first time traveling together, Don and I, since we left Vancouver Island almost 5 years ago. A bit of an eventfor us. You should have seen all the food we brought along! Well, you know, with 3 mouths to feed and all... ;-)
Here's what we packed:
- 2 huge containers of green smoothie
- Lots of water
- Veggie sticks
- Some rye bread and onion bread
- Cheese sauce (to use as dip and spread)
- A big container of salad
- Sprouts
- Tomatoes, cubed
- Avocado
- Don's Creamy Citrus-Herb Dressing
- Garlicky toasts
- Seasoned seeds
- Trail mix
- Chocolate chip cookie
Oh yeah, and I got a little fancy and threw in a few of Maraw's Banana Nut Pancakes and some Coconut Vanilla Custard to go on top. (Raw gourmet food while on the move, why not!?!)
I thought we were probably bringing way too much stuff (you know how it can be!), but in fact, it ended up being the perfect amount! We came back with a little left-over trail mix, and that's pretty much it!
Cruising Along
The whole trip couldn't have gone any smoother. We left early, as John needed to pop by the hospital in Nelson first. The weather was just right, even once we hit the desert, and the scenery was beyond spectacular. We were surrounded by orchards in the Okanagan, and the view, as we approached Osoyoos, was breathtaking!
It gave us a welcomed opportunity to connect with John, as he is about to enter this challenging phase of his healing journey. It was also neat to retrace our steps after all these years. We couldn't help but revisit the circumstances around our move. Quite an adventure that was too, I tell ya!
Magic Picnic
After dropping John off, we decided to give ourselves a special treat on the way back, and had a picnic at one of our favorite camping spots, just outside Grand Forks.
To say that it was magical would be an understatement!
We saw at once why we love that place so much! So peaceful and quiet, with the sound of the river gurgling and wild flowers in bloom everywhere we looked.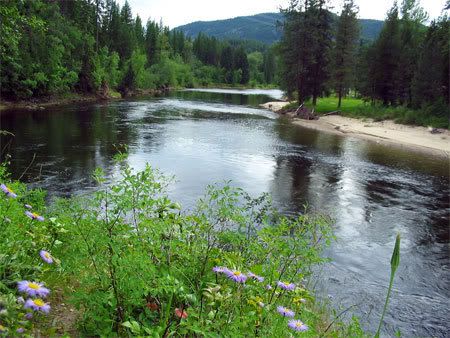 Aren't these just gorgeous!?!
We had our picnic by the river and were serenaded by birds as we ate. The entire sky was covered in clouds, but somehow, a steady stream of sunlight was shining right on us the entire time. Pure bliss! Talk about the unexpected!
Don stretching out the car kinks!
Gotta head back already... Time to put everything away! (Sigh)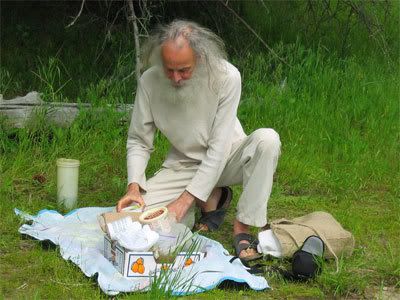 We were pretty wiped when we got home, but were totally stoked about our little road trip. Such a nice break of continuity!
Our only regret is that it was too early in the season, so we couldn't load up on fruit. Ah well... perhaps in 5 years, when we take our next trip! ;-)
*~*~*~*
Photo Credits
Osoyoos from
http://www.osoyoos.ca/
Technorati Tags: