As you can see, I just couldn't stay away from berries for very long.
When Don and I visited the farmer's market over the weekend, someone was selling mulberries; another delicious variety I had yet to try. They look almost exactly like blackberries, except that they are smaller and grow in trees rather than bushes. They are also super sweet... Perfect dessert material!
I considered making a more conventional pie, you know, blending them up with a touch of sweetener and pouring the resulting filling on a nut crust. In the end, I opted for this slight variation of my
Strawberry Shortcake
. I keep coming back to this one over and over again, as I find that the cake and whipped cream's subtle flavors make for such a great way to enjoy berries.
I'm pleased with my choice as these tarts were sooooo yummylicious!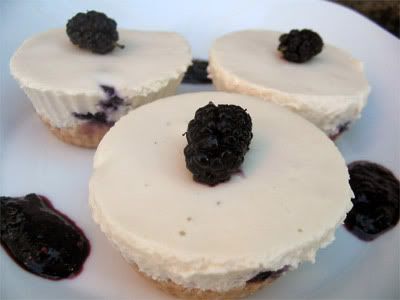 Mulberry & Cream Tarts
This recipe makes 24 tarts or one 7 " diameter cake
Cake Base
3/4 cup well packed dates, chopped
1 tablespoon lemon juice
1 tablespoon vanilla
Pinch sea salt
1 cup loosely packed left-over pulp from making milk or ground almonds
1 cup dried coconut
1/2 cup cashews
Place dates in food processor and process until a smooth paste forms. You may need to add a little water.
Then add the rest of the ingredients and mix until smooth.
If using ground almonds instead of wet almond pulp, you might want to add a couple of teaspoons of water for moisture.
Whipped Cream
1 cup cashews or a mixture of cashews and macadamia nuts
1 cup + 2 tablespoons fresh coconut milk (simply blend 1 part dried coconut with 3 parts water in high speed blender)
1/8 - 1/4 cup honey or
agave nectar
(depending on how sweet a tooth you have)
1 tablespoon lemon juice
1 tablespoon vanilla
Pinch sea salt
1/2 cup
coconut oil
, melted
1 tablespoon lecithin powder*
*Lecithin is derived from soybeans and acts as an emulsifier. Look for lecithin (preferably non-GMO), in granules or powdered form, at your local HFS. If using granules, make sure to grind them up in a high speed blender of coffee grinder.
Blend all ingredients except coconut oil and lecithin until smooth. Add oil and lecithin and blend until thoroughly mixed. Set in fridge for about 1 hr.
Berry Layer and Decoration
2 cups mulberries, de-stemmed
Assembly:
Form an even layer of cake base at the bottom of a silicon cup or muffin pan lined with plastic film.
Top with a layer of mulberries.
Finish with some whipped cream.
Put in fridge to set.
When firm, gently de-mould tarts and place on serving plates.
Decorate with mulberries and if desired, serve with Mulberry Sauce.
Mulberry Sauce
I used about 1/2 cup berries and 1 small Medjhool date blended in my food processor. (You don't need much dates as the berries have such a natural sweetness to them.)
I added a little water until I reached the desired consistency.
Carmella's Notes:
~ If you'd rather make this recipe into a cake, repeat layers once more.
~ You could sub the mulberries with whatever berries you have on hand.
Enjoy!