Each turn of season is an eloquent reminder of impermanence and the ever-changing nature of Life. Autumn perhaps more so with its dramatic display of browns, reds, and yellows that preceeds Winter's barrenness.
Now that my body has adjusted to the cooler temperatures and the inevitable piling up of layers of clothings, I'm actually finding myself enjoying the season and its change of pace: the languid mornings, the daily walks in the crisp, fresh air, the evenings spent with a good book... We also naturally seem to be drawn to 'calling it a day' earlier, going to bed by 8 or 9:00 PM. Getting more attuned to the sun's rhythm, I suppose.
And of course, I'm reveling in the ongoing challenge of playing with new flavors and textures. Each time I put a new raw delicacy on the table, I move yet another step away from the cooked foods I used to crave. I seem to have come to a place within me where I'd be hard pressed to name a single cooked dish I would choose over a raw one.
Let me share with you a few recipe ideas to celebrate this season's harvest.
Falling For Fennel
I discovered fennel only recently (thanks to
Russell James
' exquisite
Fennel & Cherry Tomato Tarts
) and fell in love with its subtle taste. If you've been staying away from fennel because of its slight licorice taste, try marinating it. You will be surprised at the result!
I've never been to Italy, but to me, this is what a raw Italian soup should taste like. Delicioso!
Heirloom Tomato Soup With Olives and Shaved Fennel
Posted by MichiganVeggie on
Recipe Zaar
A raw recipe from Natural Health Magazine. The original recipe calls for arbequina olives, but any small, mild-flavored olive will do.
4 servings
30 min prep
Soup Base
2 large tomatoes, seeded and chopped (preferably heirloom variety)
1/2 jalapeno pepper, seeded and chopped
1/2 cup chopped peeled cucumbers
2 teaspoons sherry wine vinegar (I used apple cider vinegar)
sea salt
fresh ground black pepper
Garnish
3 inches baby fennel, thinly shaved with a sharp knife
olives, slivered (I used sundried black olives)
seeded and diced tomatoes
2 teaspoons brine, from olives (I didn't use)
2 teaspoons sherry wine vinegar
1 tablespoon extra-virgin olive oil
chopped fennel leaves (to garnish)
To make the soup base, combine the tomatoes, jalapeno pepper, cucumber, and vinegar in a high-speed blender; process until smooth. (For a smoother soup, pass the puree through a fine-mesh sieve.) Season with salt and pepper.
Divide the soup base between 4 bowls. Garnish with shaved fennel, olives, and diced tomato. Drizzle olive brine, vinegar, and olive oil over the soup. Sprinkle with fennel fronds and serve.
Carmella's Note:
I added thin slivers of red onion to the bowls.
I'd been toying with ways to combine fennel and pear together for a few days, when I stumbled upon a picture of pear pizza. Something in me went
'Yes!
'
This was totally new territory for me and was delighted at how these turned out. The marinating process works its magic and gives the fennel a very delicate flavor, which marries beautifully with the sweetness of the pear and the pine nuts. And wait 'til you catch the smell of this pizza coming out of the D! Mmmmmmm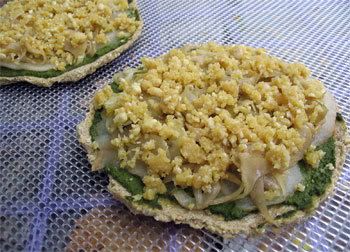 Fennel & Pear Pizza with Pine Nut Parmesan
For this recipe you will need:
- Pizza Crust(s)
- Your favorite basil pesto
- Marinated Bosc pear
- Marinated fennel
- Pine Nut Parmesan
Veggie Herb Pizza Crust
By Erica of
School Of Rawk
2 cups Sprouted buckwheat
2 zucchinis (2 cups)
onion powder
1-2 cloves garlic
Braggs (or salt for those who don't do Braggs)
1 teaspoon herbs de provence
1/2 ground flax
1 tablespoon oil
Process until a dough-like consistency is reached. (Add more flax if needed). Form into pizza crusts and dehydrate.
Marinated Bosc Pear
1 Bosc pear, thinly sliced
2 tsp olive oil
1 Tbs apple cider vinegar
Gently toss pear in marinade and let sit for 1 hr.
Marinated Fennel
1 cup fennel sliced thinly on a mandoline or V-slicer
1 Tbs olive oil
1 Tbs Nama Shoyu
1 Tbs agave or honey
Toss fennel with the rest of the ingredients and let marinate for at least 1 hr.
Pine Nut Parmesan
1/2 cup macadamias
1/2 cup cashews
2 Tbs pine nuts
1 Tbs lemon juice
1Tbs flax meal
1 clove crushed garlic
1Tbs nutritional yeast
1/2 tsp salt
First process macadamias and cashews until ground. Then add the rest of the ingredients and process until well mixed. You don't want to overprocess the pine nuts as they release a lot of oil.
Assembly
On a pizza crust, spread a generous layer of your favorite basil pesto. Follow with pear slices, then marinated fennel. Crumble pine nut parmesan on top. Dehydrate for 1 hour at 110 degrees.
Optional:
Just before serving, top with cherry tomato halves.
Interestingly enough,
Living Light Institute
just published an amazing looking fennel recipe in its October Newsletter. Talk about a work of art!
Fig Fennel Fettuccini
Serves 6
This recipe was created by Living Light students during the October session of Ethnic Flavors in Recipe Development.
4 medium zucchini, peeled
1 tablespoon crystal salt
Dressing:
1 cup basil leaves, minced
1/4 cup olive oil
1/8 cup pine nuts
1 tablespoon lemon juice
3 fresh figs, de-stemmed
2 cloves garlic (1 teaspoon) pureed
½ teaspoon ground fennel seed
Salad Ingredients:
1 cup tomatoes, diced
1/2 cup yellow or red bell pepper, fine julienne
1/2 cup carrots, very fine julienne
5 fresh black or green figs, sliced
1/4 cup fennel root, thinly sliced
1/8 cup onions, very fine julienne
2 tablespoon capers
2 tablespoons fresh basil, cut into long thin strands
1 tablespoon chives or scallions, very finely sliced
2 teaspoons fresh tarragon, minced
2 teaspoon parsley, minced
1/2 teaspoon black pepper
1. Cut long thin planks of zucchini, using a mandolin or sharp knife, then slice the planks into long thin strands to form linguini-like noodles. Add one tablespoon salt to the zucchini noodles and toss thoroughly. Allow it to stand at room temperature for 15 - 20 minutes while preparing the dressing and vegetables.
2. Put ingredients for dressing together in a blender and puree.
2. Put the dressing and the remaining ingredients, except salted zucchini, in a large bowl and toss thoroughly.
3. Gently squeeze the excess liquid from the zucchini, rinse and drain well. Pat zucchini noodles dry, and add them to the vegetables. Toss everything together gently and salt to taste. Serve chilled.
Digging Roots
The one veggie I just could not 'dig' as a child was cooked carrots. Yuck! Especially when you know they were of the conventional variety. (Sure were no organics in my neck of the woods back then!) I can still remember the day I tasted a raw organic carrot for the first time. I haven't looked back since...
Spicy Carrot Ginger Soup
By
Heathy/Fairygirl
I've never been much of a soup person, but i looove this soup! It's smooth and creamy, with a beautiful color and refreshing taste. I make it on the less spicy side but more chili can be added for those who like a more firey dish.
3 -4 cups carrot juice
1 small avocado
1/3 cup young coconut pulp
2 tbs agave
1/4-1/2 red chili
1" piece ginger root
1 small clove garlic
1/4 tsp sea salt
Blend all ingredients together until completely smooth, starting with 3 cups of carrot juice and adding more if needed for a preferred consistency.
On top I swirled young coconut cream - simply young coconut/water, bit of lemon juice, blended together.
When I first discovered raw, I used to make a simple salad with fresh greens, grated carrots and beets pretty much every day. I just wouldn't tire of it!
Ani Phyo
's version is a tad more elaborate, calling for pine nuts and dill, which add a wonderful touch.
Red Beet Salad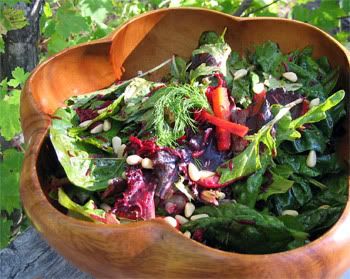 By
Ani Phyo
The flavor for this simple salad comes from the delicate pine nuts, sweet red beets, and fresh dill.
Salad:
1 red beet, julienne
1 carrot, julienne
½ head of romaine lettuce, torn
½ bunch spinach, torn
¼ cup fresh dill, torn
1 stalk celery, chop
½ cup pine nuts
Dressing:
1 Tablespoon apple cider vinegar
3 Tablespoons olive oil
½ lime's juice
½ teaspoon sea salt, to taste
black pepper, to taste
Begin by placing salad ingredients into a mixing bowl.
Next, drizzle the ingredients for the simple dressing right into your mixing bowl.
Toss, and serve.
Bet you never dreamed of the day you could have raw vegan hot dogs, but I got some news for you! Snowdrop has ingeniously come up with a recipe that will blow your taste buds away! These are sooooo good!
It was my first time using hickory/liquid smoke and both Don and I were amazed at the 'authentic' taste it gave the hot dogs. We sure had our 'real' dogs fooled! he he
Raw whole food hot dogs
Posted by snowdrop on
Raw Freedom Community
i hope you like them as much as i did, on a nice wrap all loaded with raw hot-dog type toppings. i just had one, wow!!! they taste exactly like them!
Makes 6-8
1-1/2 c walnuts
¼ onion
¼ beet
½ carrot
2 clove garlic
2 T agave (to taste)
2 T soy sauce/tamari
2 t hickory smoke flavor*
1 t marjoram
½ t celery seed
½ t salt
½ t smoked paprika
sprinkle cayenne pepper
Blend till smooth in food processor.
Form dough into hot dog shapes on teflex (6-8).
Dehydrate 105 about 4 hrs.
Flip onto grid dehydrate to the texture you like. (Another hr or so.) Roll lightly into shape.
Serve warm.
*
Carmella's Notes:
~ Hickory/ liquid smoke can be found in health food store, usually alongside other savory sauces.
~ This is pretty intense stuff so I would recommend starting with less than what's called for.
Here's another recipe by my beautiful friend Heathy. A creative way to use carrots and take care of your pumpkin pie cravings!
Pumpkin Pie Ice Cream
By
Heathy/Fairygirl
1 cup carrot juice*
½ cup packed young coconut pulp
½ cup cashews
¼ cup maple syrup
¼ cup agave
1 ¼ tsp pumpkin pie spice
½ cup chopped pecans, mixed in at the end.
Blend all but the pecans together until smooth and creamy.
Chill in the fridge and then run through an ice cream maker
OR freeze in an ice cube tray and then blend until smooth and frosty.
* Heathy's Note:
I like it with all carrot juice, but if you find it too "carroty", use 3/4 c juice and 1/4 cup water.
For more great ways to use root veggies, have a look at the
Carrot and Parsnip Pasta with Cilantro-Pumpkin Seed Pesto
and the
Rawssian Borscht
recipes previously posted on my blog. Anna of the Raw Table also has a lovely Beet Ravioli w/Herb Cheese Filling
here
.
Playing In The Squash Patch
Such a lovely array of colorful squashes at the farmers markets this time of year: acorn, ambercup, buttercup (my fave!!!), butternut, spaghetti, turban and of course pumpkin. For me, baked squash is as good as it gets when it comes to cooked food; it was one of our winter staples while on a high raw diet.
Happily, squashes can also be enjoyed in the raw. Try making squash pasta with a spiral slicer and top with your favorite sauce or slice thinly and use as ravioli wrappers. I am still very much at the exploration phase, but here's a great recipe I prepared last week. It actually reminds me of the cream of celery soup my mom used to make. Yummo!
Butternut Squash Soup
By
Frederic Patenaude
This is a sweet soup that will surprise more than one. It is ideally made using a heavy-duty blender such as the Vita-Mix.
4 servings
1 and 1/2 cups water
2 cups butternut squash, diced
4 ribs of celery
2 tablespoons tahini
2 green onions
½ cup fresh basil
½ teaspoon sea salt
½ teaspoon paprika
Blend the water and half of the butternut squash.
Add progressively the other half as well as the rest of the ingredients and blend.
On the other hand, I have lots of scrumptious looking squash recipes on my 'to do' list. Check out
The Daily Raw
's
Pesto-stuffed Butternut Squash with White Sauce
and Veganbear's
Moroccan Butternut Squash Parcels
. (The names alone are enough to make you drool! lol) Ani Phyo has a
Walnut Cranberry Squash Rice
and a Mexican Squash Rice recipe in her new book
Ani's Raw Food Kitchen
that also sound very very promising.
Cabbage 'N
Mushies
If you like raw cabbage and have a thing for spicy food, then you will probably enjoy this next dish. I actually first tasted it at a local restaurant. When I saw the recipe in the 'Purely Delicious' magazine, I knew at once that it was the same one. Totally delish!
Thai Coleslaw
From Matt Amsden's
RAWvolution
Posted in the Summer 2007 issue of
'Purely Delicious'
Salad:
3 C finely shredded green or Napa cabbage
1 C peeled and shredded zucchini
1 C shredded carrot
1 bunch fresh basil, stemmed and chopped
1 bunch mint,
1 bunch cilantro
1 bunch fresh chives,minced
1/2 C raw, unsalted peanuts (I used soaked almonds instead)
Dressing:
2 T fresh lemon juice
2 T apple cider vinegar
1/4 C Nama Shoyu
2 T agave nectar
1/4 C olive oil
2 cloves garlic
1 1" piece ginger, peeled
1 1/2 T curry powder
1 tsp chili powder
In a large bowl, combine all of the salad ingredients and toss to mix thoroughly.
In a
high-speed blender
, combine all of the dressing ingredients and blend until smooth.
Pour the dressing over the salad, mix well and serve.
Carmella's Note:
I found the dressing to be a little too hot for my taste. It might be a good idea to start with less curry and chili powder, and add more until the desired spiciness is reached.
Autumn, with its moist and cool days, is the ideal season for wild mushroom picking. We've heard that there are some varieties growing in the woods nearby, but we don't feel knowledgeable enough to go on a hunt. I'll have to ask
Shanoon, the wild edible expert
, to give me a little tour sometime. Thankfully, at this time of year we can also find wild mushrooms at the local markets.
Here's a must-try for all mushroom lovers. I have subbed the Porcinis with fresh criminis or Portobellos before, and it was still totally awesome.
Mushroom Stroganoff
By Cherie Soria
Published in the
December Living Light International Newsletter
6 servings
½ cup dried porcini mushrooms
1 ¼ cups water
Marinated Crimini Mushrooms
3 cups crimini mushrooms, sliced 1/8" thick
2 tablespoons red onions, minced
2 tablespoons olive oil
1 ½ teaspoon wheat-free tamari
½ teaspoon garlic powder
Zucchini Noodles
12-16 medium zucchini, peeled (about 2 lbs)
1 teaspoon crystal salt
Cream Sauce
1 cup reserved mushroom soaking water
1 cup almonds, soaked for 8 to 12 hours
2 cups reserved zucchini centers, chopped (see direction #3, below)
2 tablespoons dark miso
1 ½ teaspoons shiitake powder
1 teaspoon nutritional yeast
½ teaspoon paprika
½ teaspoon crystal salt
¼ teaspoon garlic powder
⅛ teaspoon pepper, ground Fresh ground black pepper
1. Soak the porcini mushrooms in water until soft, about 1 hour.
2. In a shallow bowl, whisk together the onions, olive oil, tamari, and garlic powder. Add the crimini mushrooms and toss until all the mushrooms are thoroughly coated. Set the mushrooms aside to marinade for 30 minutes.
3. Using a vegetable peeler, shave the peeled zucchini lengthwise, rotating the zucchini a few degrees each time, to form thin planks resembling wide egg noodles. Once you reach the seedy center of the zucchini, stop and reserve the core for the sauce. Sprinkle the "noodles" with salt. Gently toss and set aside for 30 minutes.
4. Drain the water from the porcini mushrooms and rough chop. Retain the mushroom soaking water to use in the recipe.
5. Put the almonds and the mushroom-soaking water in a blender and blend to form a smooth thick cream. Pour the cream into a mesh bag and gently squeeze the mixture to remove the pulp. Only the strained cream will be used. Refrigerate or freeze the pulp for another recipe.
6. Drain the liquid from the crimini mushrooms and put 1/3 of the mushrooms into a high powered blender, along with half the cream, all the soaked drained porcini mushrooms, the leftover chopped zucchini centers, the dark miso, shitake powder, nutritional yeast, paprika, salt, garlic powder, and pepper, and blend until smooth and creamy. Add the remaining almond cream and pulse to blend. Do not continue blending the gravy once the remaining cream has been mixed in, or it will become frothy. It should just be mixed in.
7. Gently squeeze the zucchini to remove the salt and excess moisture. Towel dry the softened zucchini noodles so they are dry (otherwise the moisture will thin the sauce and it will not cling to the noodles). Toss the noodles into the cream sauce.
8. Put the mixture in a shallow rectangular glass baking dish approximately 8 1/2-inch by 13-inch (lasagna-type), top with remaining marinated crimini mushrooms, and place it in the dehydrator set at 135 degrees for 1 hour.
9. Serve warm from the dehydrator, topped with a sprinkle of fresh ground pepper.
Click here
to watch a video of Cherie making this recipe.
Trickless Treats
Growing up, I loved Halloween, not because of the sweets (in fact, I usually had some of my old loot hiding under my bed by the time the next Halloween came up!), but for the thrill of dressing up and getting free stuff. lol
Walking the aisles of our supermarket these days and seeing all the unhealthy junk that kids will be soon munching on gives me the shivers.
If you're expecting to be swamped by a bunch of ghosts and vampires at the end of the month, here's a rawsome way to join in the fun.
Tootsie-Rawls
Posted by GlimR on
Raw Food Talk
1 cup raw cacao powder
1/2 cup mesquite powder
1/2 cup almond butter
3/4 cup honey or agave (I used a mix of both)
2 T. fo-ti
2 heaping T. lucuma powder
1 T. vanilla
pinch sea salt
process in
food processor
till well blended...will be very stiff, stir down as needed
place in bowl and knead in more lucuma (several T.) till no longer sticky.
roll in logs, wrap in paper
store in freezer
One of the best things about raw foods is how you get to enjoy the tastiest and most luscious desserts without a hint of guilt! As an adult, I still don't have much of a sweet tooth, but I can't resist exploring all the exciting possibilities raw desserts have to offer. Thankfully, I can always count on Don and our neighbors to help me go through the resulting goodies.
The following was inspired by Mishka's fantastic Peach Cobbler recipe I shared with you
here
. Either version would also be lovely with apples as well.
Pear Cobbler


Serves 8


Cobbler:

6 large Bosc pears
1 tsp cinnamon
1/8 cup honey or agave nectar
dash of sea salt
Crumble Topping:
1 cup pecans
1 cup dates
2 dashes of cinnamon
1 tsp vanilla
Put 2 pears and the rest of cobbler ingredients in food processor, then pour into a glass casserole dish.
Chop in bite size chucks the remaining 4 pears and add to the dish. Crumble the topping on top.
Place in dehydrator at 105 degrees for 2 hours.
I have yet to try this raw rendition of baked pears but my friend Joz assures me it's outstanding. Sure love the colors!
Bartlett Pears with Cinnamon Cranberry Sauce and Spiced Ginger Cream
By Indulge
Posted on
GreenChefs
Makes 8 Pear Halves
Cinnamon Cranberry Sauce
1 Cup Cranberries
1/2 Cup agave Syrup
1/4 Cup Maple Syrup
2 TB Lemon Juice
1 tsp Cinnamon
1/4 tsp Nutmeg
Spiced Ginger Cream
1 Cup Young Coconut Meat
1/4 Cup Virgin Coconut Butter
1/2 Cup Agave Syrup
1 TB Fresh Grated Ginger
1/8 tsp Ground Clove
2 tsp Vanilla
Bartlett Pears
4 Large Bartlett Pears Cut in half
Instructions
Cut the Pears in half and place them on your dehydrator tray and dehydrate for 1-2 hrs. on 110 F.
While the pears are dehydrating, make the toppings.
For the Cranberry Sauce, place all the ingredients in the blender and process on high until smooth and well blended. You may chill this or keep it room temperature. I like it best chilled.
For the Spiced Ginger Cream, place all the ingredients in the blender and process also on high until smooth and creamy. Taste to adjust flavorings to your liking. Chill for 1-2 hrs. Then stir well before serving.
Place the pears once they are done on plates and drizzle a little of each topping over them. For decoration you can add a sprig of thyme or rosemary and garnish with orange peel and cinnamon. Serve immediately while warm.
Alternatively you can skip the dehydrating and just use fresh pears as I have in this photo. Although, because of the high water content of the pears, it pretty much dilutes the flavors of the toppings. It still tastes fresh though and is nice both ways.
Lovely Heathy's rendition of an all time favorites...
Apple Pie
By
Heathy/Fairygirl
I made this for thanksgiving dinner with fresh apples that a friend picked and brought up from southern Ontario days prior! I swear the fresh apples make a world of difference. Anyway, we also had a cooked pumpkin pie and everyone tried both but only commented on how great the apple pie was. OOooh yeah! Raw is the best! One friend commented "this tastes just like the oatmeal I make with brown sugar and cinnamon - are there oats in here?" haha. I know there are a million raw apple pie recipes floating around, but I thought, hey, no harm in one more!
Crust:
2 cups pecans
1/2 cup walnuts
1/2 cup dates
Process ingredients together in a food processor until crumbly. Press into a 9" pie plate.
Filling:
6 medium apples, cored, peeled and separated
1/2 cup pitted medjool dates
1/4 cup raisins (or use a few more dates)
2 tsp cinnamon
Blend 2 apples, dates, raisins, cinnamon until smooth.
In food processor chop the other 4 apples.
Mix into the blended mixture.
Spread into pie crust. Chill.
And finally, with American Thanksgiving just around the corner, you might want to try the following recipe.
Cranberry-Pear Relish
By Chad Sarno
Posted by Vanessa on
GreenChefs
1 c. dried pears rehydrated for 1/2 hour
1/2 c. raisins soaked 2 hours
2 c. cranberries, pulsed
1 c. pears diced small
3 T. red onion minced
1/4 c. parsley minced
1 T. ground cinnamon
1 T. onion powder
1 T. lemon juice
1 T. flax seed oil
1/2 teaspoon salt
1/4 teaspoon black pepper
Process the rehydrated pears and raisins until a slightly chunky paste. Remove and place in mixing bowl. Proceed to pulse the cranberries, leaving the mixture chunky.
Hand mix in remaining ingredients with the pear paste and cranberries.
Phfew! And I thought I was done with long posts! In another lifetime maybe. lol
Here's to Autumn's many blessings!
*~*~*~*

Photo Credits:
Autumn Leaves
by love_child_kyoto
Fig Fennel Fettuccini by
Living Light Culinary Institute
Spicy Carrot Soup by Fairygirl/Heathy
Pumpkin Ice cream by Fairygirl/Heathy
pumpkins 2
by *andee*
Tootsie-Rawls by GlimR
Apple Pie by Fairygirl/Heathy
Bartlett Pears with Cinnamon Cranberry Sauce by
GreenChefs